Our packaging eco-design approach plays a crucial role in achieving our sustainable packaging commitments. We are now applying it to improve our packaging around the world.
Packaging is one of the biggest challenges facing the food and drink industry. To address it, we have committed to making all of our packaging 100% reusable or recyclable or compostable by 2025. We will only achieve it if we stretch our boundaries, work in partnerships with others and invest in R&D and Open Innovation to develop new packaging solutions across our products and operations around the world.
One success story is how we are reducing the thickness of the aluminium foil we use to wrap Kinder Surprise eggs and Kinder Hearts, while delivering the expected quality and protection throughout handling and transport.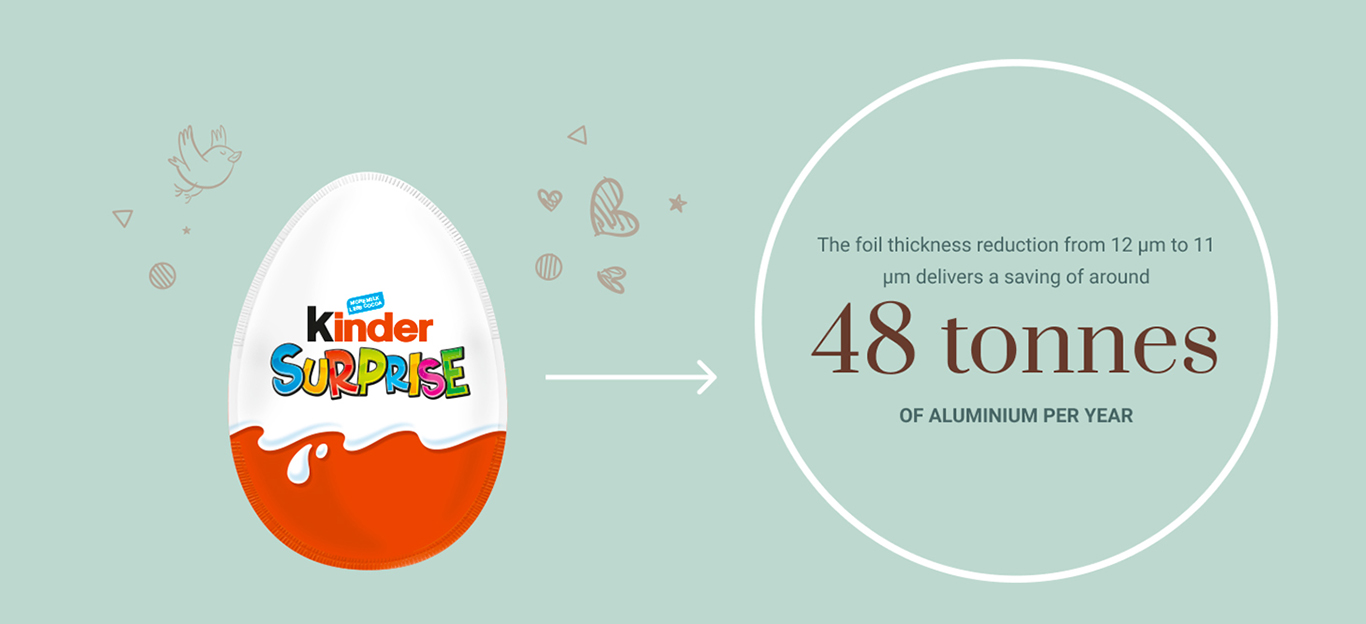 Kinder Surprise is one of our most iconic products and we use a very thin aluminium foil to wrap our Kinder Surprise chocolate eggs. Today, the foil is 12 µm thick and is considered best in class. We are now exploring ways to reduce it even further, to 11 µm. This will deliver a reduction of about 48 tonnes of aluminium per year when rolled out globally. It poses challenges to our production lines and supply chain and we are currently evaluating industrial feasibility on highly automated lines. This represents the biggest challenge but, once it is addressed, roll-out to all plants producing Kinder Surprise will follow on a global scale.
We adopt the same approach at a more local scale to step from experimental to industrial projects for chocolate hollow figures. A good example is the Kinder Heart packaging which is produced in our plant in Poland. We set out to reduce the thickness of the aluminium foil used to wrap this hollow figure and achieved a reduction 30 µm foil to 18 µm, saving some 11 tonnes of aluminium per year. The foil is also delivered to the plant in reels, rather than the single units delivered previously for the test phase. This allows transport optimization and delivers environmental benefits beyond just material reduction.
These two projects alone will lead to an annual reduction of about 580 tons of CO2 emissions and represent a step change for future packaging for hollow figures as we work towards our ambitious sustainable packaging targets.