Cocoa
Hazelnuts
Palm oil
Sugar
Milk & Eggs
Our Cocoa
Cocoa is a fundamental ingredient in our products. For years we have been working as part of our Ferrero Farming Values Cocoa program to better the livelihoods of farmers and communities, to improve the conditions for children and give access to education, and to protect the environment.
Ferrero made a commitment in 2011 to responsibly source 100% certified as sustainable cocoa by 2020 to help improve their living conditions and foster sustainable practices. Certified farms have to follow strict criteria to help ensure environmental, social and economic sustainability.
We are proud to confirm that we have achieved this goal: All our cocoa is sourced via independently managed sustainability standards like Rainforest Alliance (UTZ), Fairtrade and others. Also, we continue to work to ensure full visibility and traceability of our cocoa across its supply chain.
Certification and traceability are the starting point of Ferrero's sustainability approach, but we go beyond to increase our impact on the ground.
Where does it mainly come from?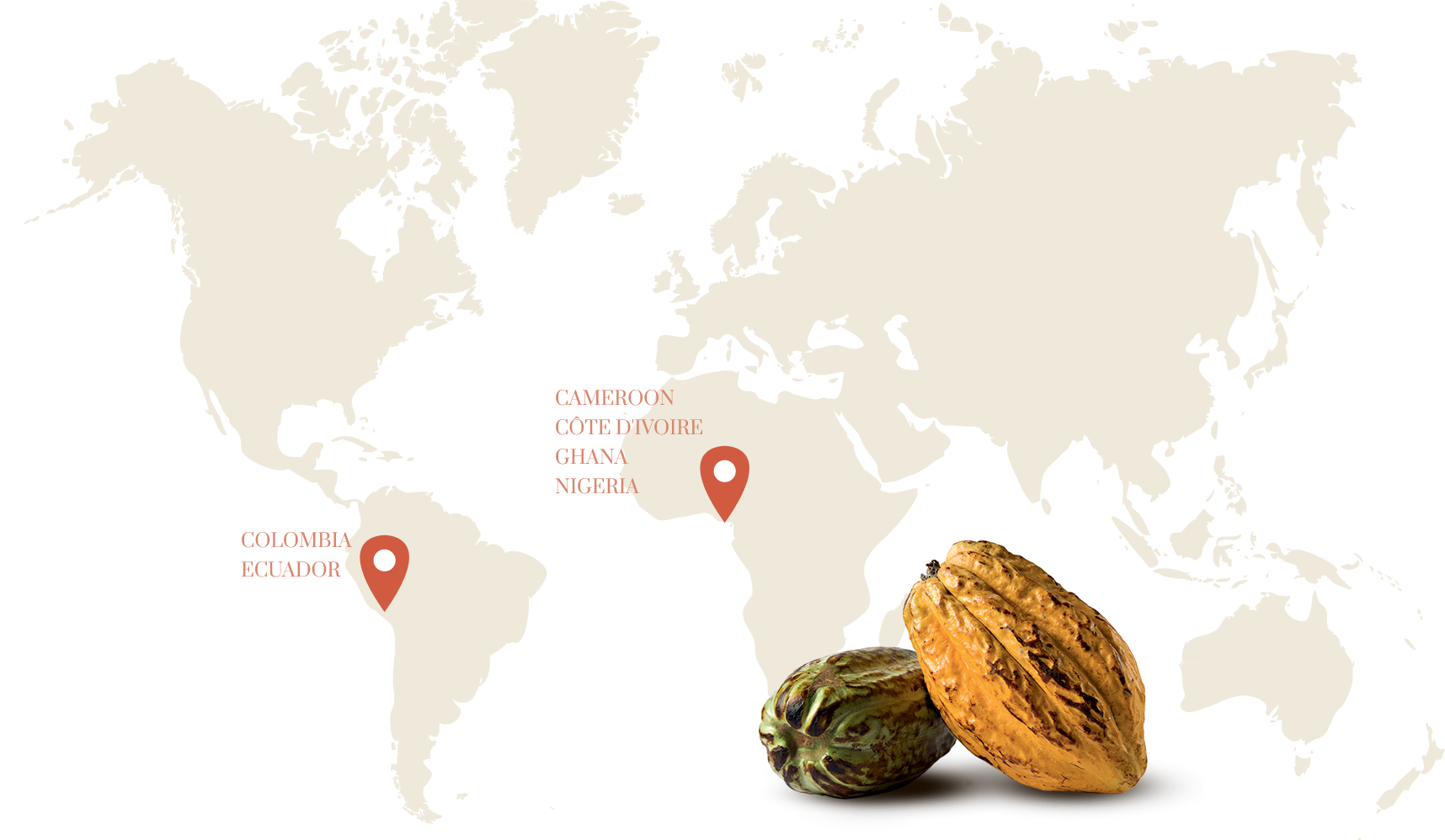 Supporting Farmers The vast majority of the world's cocoa is produced by smallholder farmers, most of whom live in Côte d'Ivoire and Ghana where we mainly source our cocoa. These two countries together account for more than 60% of the world's cocoa production. Those farmers encounter the complexities of economic, social and environmental issues, such as lack of access to resources, limited knowledge of good agricultural practices, and climate change.
Through our Ferrero Farming Values Cocoa Programme, we support farmers in adopting sustainable agricultural practices aimed at increasing cocoa productivity. Beyond that, we also help them to diversify their incomes with the purpose of reducing poverty and related issues as well as increasing the resilience and improving the livelihoods of farmers, communities and vulnerable groups.
Protecting children's rights
Ferrero is committed to promote children's rights. For the children in our cocoa supply-chain this means taking action to tackle child labour and improve access to education and basic needs such as water, sanitation and good nutrition. We are sensitizing farmers on the rights of children, and we are implementing systems designed to identify and remediate cases of child labour, also called CLMRS (Child Labour Monitoring and Remediation System). Remediation can vary from individualized support to children and parents to broader child-centered community development programs that aim to implement mechanisms to protect children, strengthen the educational infrastructure and promote women empowerment. In early 2021, we extended out partnership with the NGO Save the Children to protect children's rights and promote education in cocoa growing communities in West Africa. Our partnership with Save the Children will benefit 90,000 children and adults in 65 cocoa communities in Côte d'Ivoire over the course of five years.
We also actively support initiatives that have a broader scope than our direct supply-chain. For example, since 2008 we are members of the International Cocoa Initiative, a multi-stakeholder platform that aims to ensure a better future for children and to advance the elimination of child labour.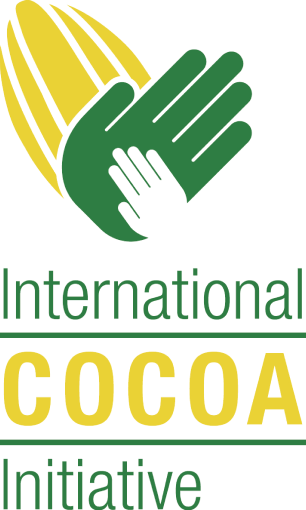 Safeguard the natural capital Deforestation threatens to undermine the resilience of the cocoa sector and the livelihoods of the millions of smallholders who depend on it. Ferrero is a founding member of the Cocoa & Forests Initiative with other leading global cocoa and chocolate companies to commit to working collaboratively to end deforestation and forest degradation across the global cocoa supply chain.
We have worked for years to reach a high level of traceability and visibility of our supply chain and we use the latest technology to ensure that farms we source from are not located in protected areas. We are implementing a range of measures that are significantly contributing to environmental protection and biodiversity and to limit the impacts of climate change. We train cocoa farmers in good agricultural practices and support in distributing and planting multi-purpose trees, and in developing cocoa agroforestry systems.
Going forward The challenges facing cocoa farmers in West Africa are complex. They require organisations, governments and industry partners to work together to drive wide-scale positive change - beyond our individual supply chains. We actively collaborate and have been long-term members of leading industry and public private organizations, such as:
CocoaAction (2015) that supports cocoa farmers to increase their productivity
Cocoa & Forests Initiative (2017) that aims to end deforestation and promote sustainable cocoa production.



Both initiatives are coordinated by the World Cocoa Foundation of which we are members since 2005.
Moving forward, we will continue working to strengthen our cocoa sustainability program with a positive and lasting impact on the cocoa value-chain. We will do this along three pillars that are closely connected and reinforce each other:
Our Hazelnuts Our traceability activities were impacted by the pandemic over the last year, which reduced the possibility to visit farms and to deliver farmer training in almost all geographies.
We continued with audits leveraging telephone and digital technology wherever possible. At the end of FY 2019/2020, we had achieved 51% traceability of our total sourced Hazelnuts. Some geographies, like Chile and USA, have reached 100% traceability. Others benefit from the continuous partnership with third-party certification bodies, like Italy that record a considerable increase, up to 64% traceability, and Turkey, where despite the complexity of the supply chain, the cooperation between farmers, suppliers and FFV field team achieved 44%. To fulfil our ambition of full traceability down to farm level by 2023, we decided to redesign and strengthen our traceability approach, also mitigating the consequences of the Covid-19 along the industry. In 2020, Ferrero began a new partnership with Sourcemap, a leading provider of supply chain mapping and digital transparency solutions, with the ambition of developing a global traceability platform that we estimate to be able to trace ~60% of Ferrero hazelnuts to farmer level in FY 2020/2021. Sourcemap's state-of-the-art technology provides a comprehensive platform to trace hazelnuts from farm to factory, further strengthening Ferrero's efforts in working with its suppliers to achieve greater transparency.
Ensuring quality and freshness Our hazelnuts come from hazelnut orchards, which are mainly found in Mediterranean type climates. We source from different parts of the world, the three main origins are Turkey, Italy and Chile. Turkey's Black Sea region is the world's largest producer of hazelnuts and as a consequence where we source the main part of our hazelnuts. Ferrero's expertise and tradition with this fruit goes back to its roots in Italy, as supply can also be found in Piedmont - where Ferrero was founded - as well as in Lazio and Campania. The harvest takes place between the beginning of August and the end of September.
To ensure the availability of quality and fresh hazelnuts, cultivation is also taking place in countries from the Southern Hemisphere, representing an additional harvest from February to March. As part of this approach, Ferrero has established hazelnut farms (Agrifarms) in Chile, Argentina, South Africa and Australia, in addition to Georgia and Serbia. Through these Agrifarms, Ferrero is developing a sustainable business model with local farmers, sharing and promoting good agricultural practices (nurseries, training, agronomic assistance, etc.)
Where does it mainly come from?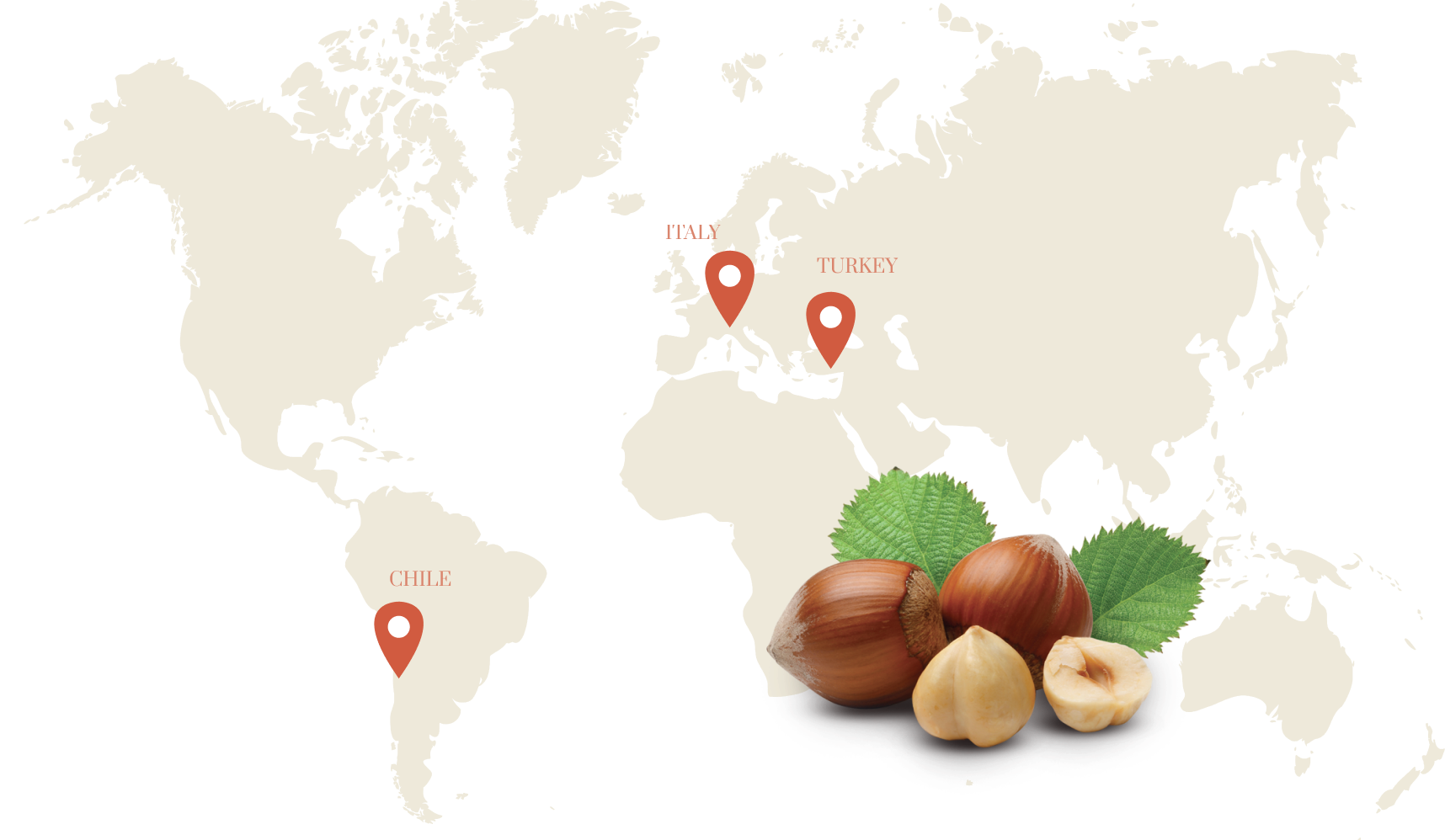 Sustainability in hazelnut sourcing Ferrero's vision towards sustainability aims to improve the conditions of the hazelnut communities where it operates.
TURKEY

The Ferrero Farming Values (FFV) program for hazelnuts has been operating in Turkey since 2012. Within this program Ferrero developed a hazelnut Production Standard in collaboration with SCS (Scientific Certification Systems) Global Services, a leading global certification and sustainability services provider. The standard encompasses four major areas: Good Social Practices (GSP), Good Agricultural Practices (GAP), Post Harvest Quality and Traceability. Through the Ferrero Farming Values (FFV) program, Ferrero works with farmers, mostly smallholders, to empower them with knowledge of good agricultural and social practices. Every year SCS Global Services, together with local auditing firms, carries out specific audits of farmers chosen at random.
Ferrero has also collaborated with GIZ (Deutsche Gesellschaft für Internationale Zusammenarbeit GmbH) to develop a Monitoring & Evaluation System in order to assess and report the progress and impact of social activities and interventions on the ground. This system reflects the collected data from different stakeholders including farmers, workers, labour brokers and community opinion leaders.
ITALY

One of the countries where the hazelnuts that meet our high-quality standards are cultivated is Italy, and historically this has been in the regions of Piedmont, Lazio and Campania, therefore taking care of the sustainable value chain development and preservation in these areas is key. As part of its responsible sourcing plan, Ferrero has collaborated with the global assurance provider DNV GL since 2015. This partnership is helping Ferrero to develop concrete actions on the ground with both farmers and associations, including training and field assistance.
CHILE

Ferrero's first agrifarm, Agrichile, was established in 1991 in Chile, which has a favourable climate for hazelnut cultivation. The result of more than 25 years of Agrichile activity, combining the expertise of our agronomists and the high skills of Chilean farmers, has been the creation of a full value chain. Ferrero's own production processes in Chile have been certified in 2019 under the Sustainably Grown standard by SCS Global Services, an accredited certification program. It provides assurance that hazelnuts meet several environmental standards, that farm workers and farm communities are protected and engaged, and that the farm is economically resilient.
Joining forces with key stakeholders
At Ferrero, we take ethical practices, including better employment practices within the hazelnut value chain, very seriously. Ferrero actively participates in an extended Public-Private Partnership with CAOBISCO (European Association of Chocolate, Biscuits & Confectionery Industries) and the ILO (International Labour Organization) in Turkey, through a project that aims to contribute to the elimination of the worst forms of child labour in seasonal agriculture in hazelnut harvesting. Ferrero is also partnering with Earthworm Foundation, a non-profit organisation focused on positively improving value chains, on its responsible sourcing program for hazelnuts
Our Palm Oil 100% RSPO certified sustainable palm oil and committed to no deforestation.

We are aware that the palm oil supply-chain faces environmental challenges, particularly concerning its impact on deforestation. That's why Ferrero is committed to leading the way in driving the sustainable transformation of the palm oil sector and has been one of the first global companies to obtain a 100% RSPO-certified segregated palm oil supply-chain.
100% traceable palm oil Our palm oil is 100% sustainable, traceable back to the mills. It mainly originates from Malaysia (averaging around 80% of our volumes) followed by Indonesia and Papua New Guinea.
Where does it mainly come from?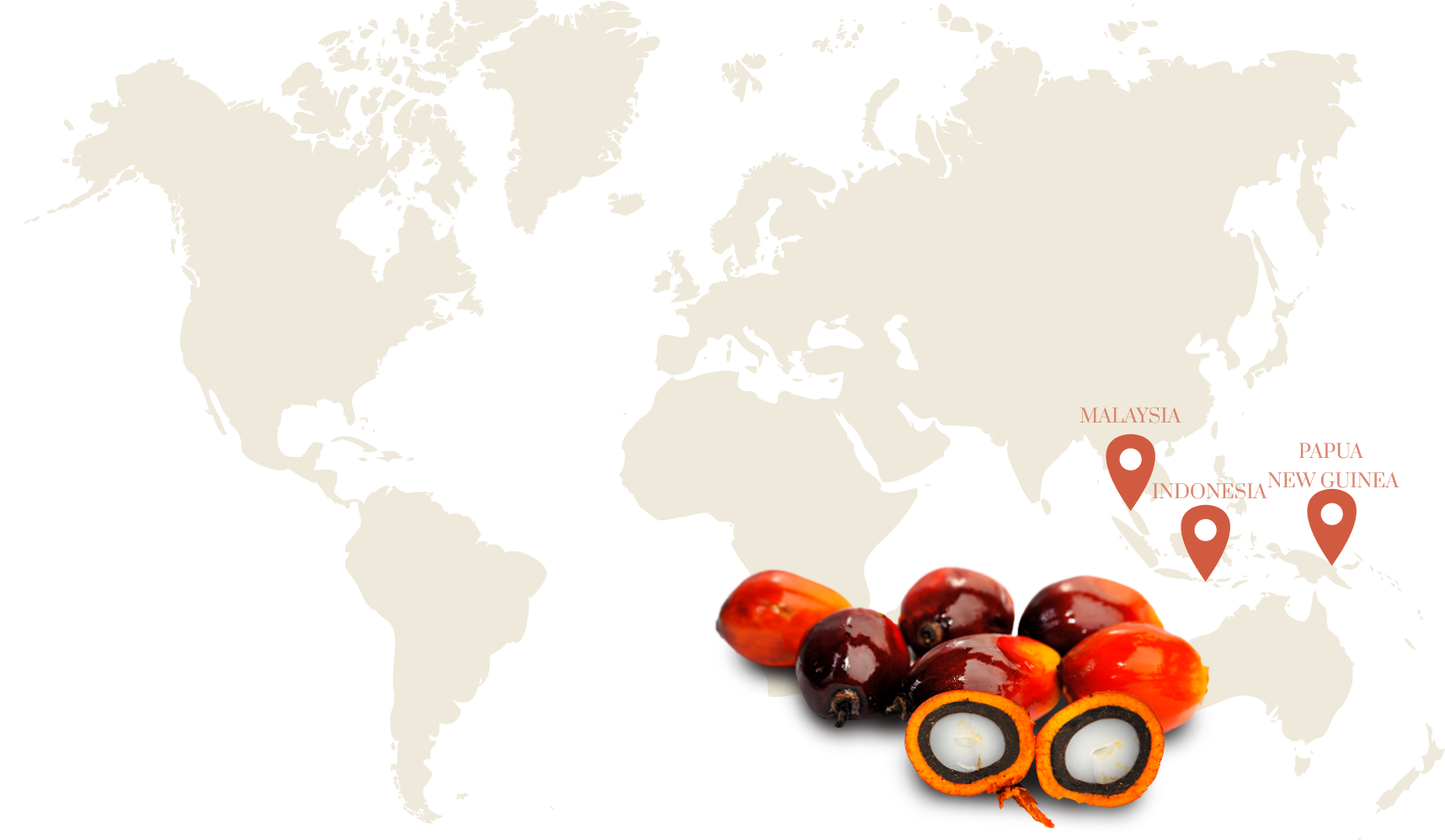 The RSPO has developed a set of environmental and social criteria which companies must comply with in order to produce sustainable palm oil (Certified Sustainable Palm Oil - CSPO). These criteria aim to enforce sustainable practices in the cultivation of palm oil.
The palm oil in Ferrero products comes from a certified 'segregated' supply-chain. It is sourced from different certified plantations and is kept separated from ordinary palm oil throughout the entire supply-chain. Through this system, 100% of our palm oil can be traced back to the mills, guaranteeing that it does not come from plantations subject to deforestation.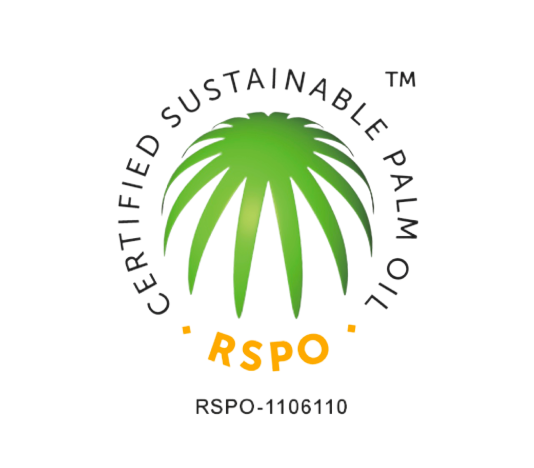 The 7 principles of RSPO To be certified by RSPO, palm oil growers need to comply with the following seven principles (RSPO Principles & Criteria 2018 update):
1

Behave ethically and transparently

2

Operate legally and respect rights

3

Optimise productivity, efficiency, positive impacts and resilience

4

Respect community and human rights and deliver benefits

5

Support smallholder inclusion

6

Respect workers' rights and conditions

7

Protect, conserve and enhance ecosystems and the environment
Did you know? As part of Principle 7, the criterion 7.12 requires that new plantings do not cause deforestation or replace any area required to maintain or enhance HCV - High Conservation Value. HCV are biological, ecological, social or cultural values of outstanding significance or critical importance within a landscape.
To discover more, visit here.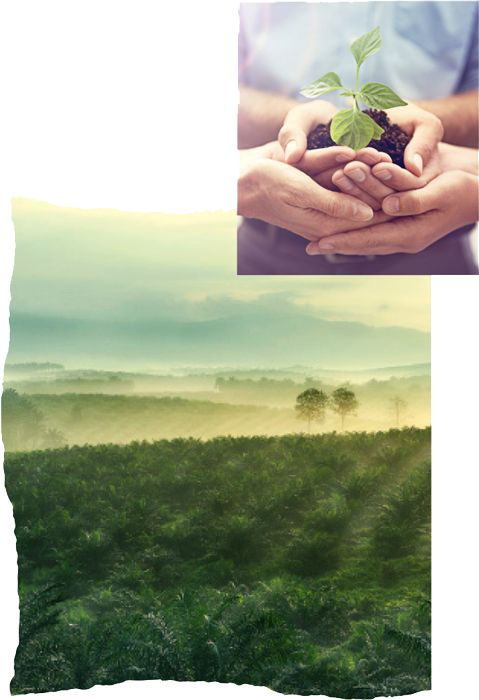 Going beyond certification To strengthen our commitments beyond RSPO certification, in 2013 Ferrero developed the Ferrero® Palm Oil Charter working together with suppliers to pursue a path that will avoid deforestation, species extinction, high emission of greenhouse gases and violation of human rights. Moreover, to further increase transparency on our supply-chain we regularly voluntarily disclose the latest traceability data on our supply mills.
Our efforts are acknowledged by WWF Our efforts are recognised by trusted NGOs such as WWF. In its 2020 Palm Oil Buyers' Scorecard, which evaluates global companies for their support of sustainable palm oil, WWF lists Ferrero as number 1 out of 173. With a score of 21.5 out of 22, WWF ranks Ferrero as leading the industry of major global retailers, consumer goods manufacturers and food service companies. Ferrero is especially recognised for its efforts that address the issue of deforestation in tropical areas and for the transparency of its supply-chain. This result is a very important recognition for our efforts in sustainable palm oil and a great encouragement to continue our journey.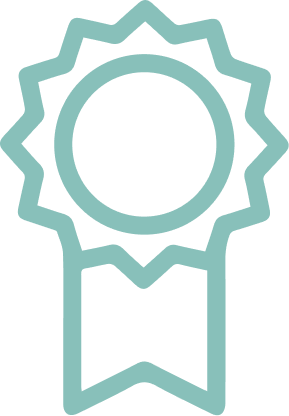 Our Sugar We committed to source all our refined cane sugar from sustainable sources by 2020.

We achieved this, with 100% cane sugar from sustainable sources, up from 48% in FY 2018/2019. We sourced sustainable cane sugar directly from Altromercato and Bonsucro.
Globally and on average we purchase 80% beet sugar and 20% refined cane sugar. In Europe, we primarily source beets from European producers, whilst our sugar cane comes mainly from Brazil, India, Mexico and Australia.
Partnering for a sustainable sugarcane supply-chain We are members of Bonsucro since 2010, a global organisation promoting the sustainable sugarcane production, processing and trade around the world.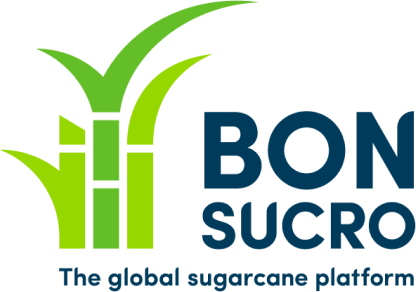 Bonsucro supports a community of over 250 members in over 56 countries, including, sugar farmers, millers, traders, buyers and support organisations.
Bonsucro works to build a sugarcane sector with thriving, sustainable producer communities and resilient supply-chains. Bonsucro's mission is to ensure that responsible sugarcane production creates lasting value for the people, communities, businesses, economies and eco-systems involved. In 2014, Ferrero Group was the first to receive the "Leadership Award" from Bonsucro for its active participation in the development of a sustainable sugar cane industry.

To learn more, visit here.
The "Sustainable Development Programme" In addition to Bonsucro, Ferrero launched the "Sustainable Development Programme", a five-year programme from 2016-2020 implemented with Ctm Altromercato in Mauritius. The general objective of this programme is to improve and enhance the economic, environmental and social sustainability of small sugarcane producers in Mauritius, going beyond the existing commercial partnership with the Mauritius Sugar Syndicate.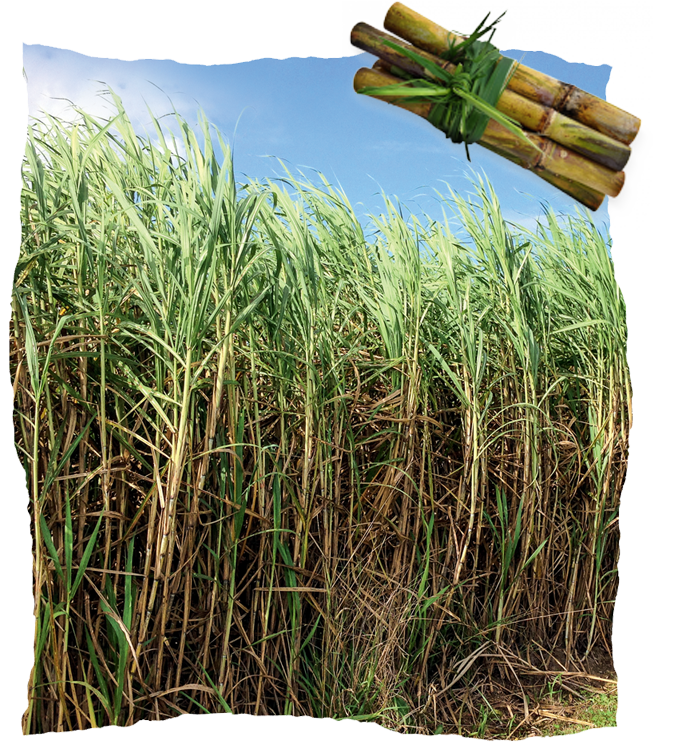 Our Milk and Eggs Animal welfare is an important principle of our ethical sourcing initiatives. One of our main objectives is to ensure the progressive improvement of animal welfare standards within the supply chains of animal origin products. In June 2017, we established a multidisciplinary team involving Ferrero experts and Food Animal Initiative (FAI) Farms, a consultancy and research organisation dedicated to driving progress towards food sustainability.

Our objective is to build a comprehensive programme dedicated to animal welfare, improving the quality and safety of our products and the sustainability of our supply chains.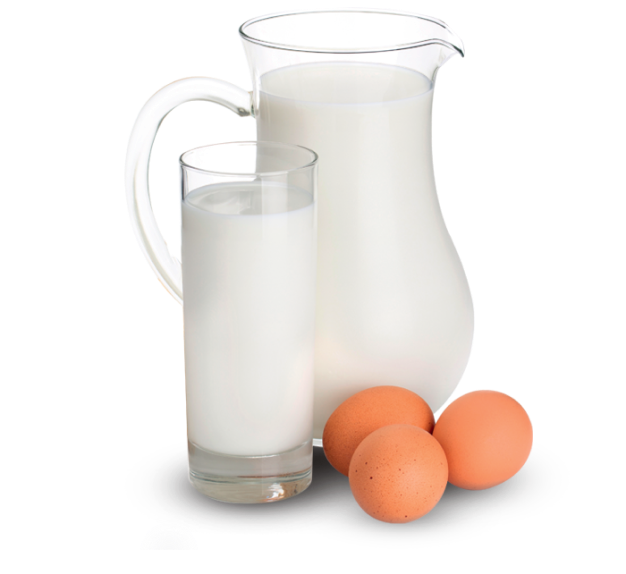 Milk The key issues in developing a sustainable milk supply chain include ensuring high standards of animal welfare, reducing carbon emissions and managing the impacts of dairy farming on water and biodiversity. Through the Ferrero Farming Values Program for milk, we have developed and nurtured long-term relationships with carefully selected local milk producers who adhere to our strict standards. This enables us to assure and improve the freshness and quality of our milk. We strictly adhere to national production regulations covering milk quality parameters (e.g., the absence of antibiotics) on raw milk and other dairy products, whilst ensuring our high quality standards.
How much of our milk is traceable?

We can trace our milk back to dairy farms globally. We work with our suppliers to drive continual improvement and encourage them to adopt best practices in milk production. To create a shift towards greater sustainability in dairy farming, we have a role to play in bringing relevant stakeholders together to engage in constructive dialogue and to identify shared causes and solutions. We will leverage the experience gained through the Vision Dairy journey – including a pilot to understand suppliers' sustainability performance covering both European and global dairy supply chains. The outcomes will be used to develop the Ferrero Milk Charter, to be published by the end of 2021. The Charter will state our ambition for a milk industry that does good for people and nature and reinforce our commitment to deliver this ambition through our own milk sourcing.
Eggs Fair treatment of chickens is the main issue to be addressed in the global egg supply chain. Our egg supply chain is fully integrated, meaning suppliers have control over the full lifecycle of their animals and the feed composition. We are committed to sourcing eggs from cage-free systems for our global supply chain.
How many of our eggs come from barn hens?
OUR 2025 COMMITMENT:
100% of eggs from barn hens.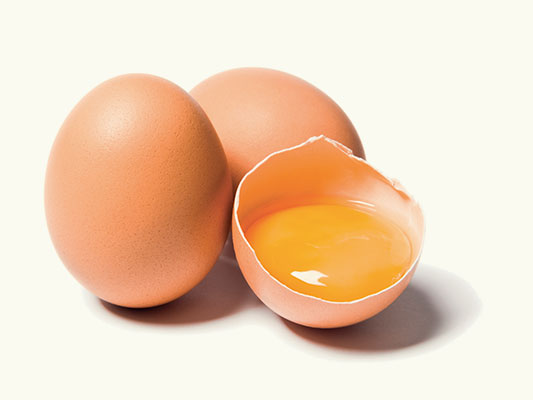 We reached our objective of using 100% cage-free eggs in the EU in 2014. Our European egg supply chains accounts for 95% of all the eggs we use globally. Our current commitment is to source only cage-free eggs and egg ingredients globally by 2025. In 2013, we developed two new manufacturing plants outside Europe, in Turkey and Mexico. The eggs used in these plants make up approximately 5% of our global consumption and we are working with our suppliers to supply them with cage free eggs, which are not currently readily available within the market, by 2025.