The aim of the Kinder Joy of moving project is to create, innovate and motivate children all around the world to get moving, a goal that has been given new meaning in light of the Covid-19 pandemic, encouraging teamwork and a sense of belonging to children's sports associations and school institutions, as well as spreading of the Joy of moving to keep children active during social isolation.
Kinder Joy of moving is an international Ferrero Group Social Responsibility Project that aims to bring joy of movement into the life of every child.

The project is able to get children and families more involved in motor activity in an engaging and joyful way, in the belief that a positive attitude towards movement and sport can make today's children better adults tomorrow.

An ambitious objective that Kinder Joy of moving continued to pursue in 2020, a year like no other, which saw most "in-person" activities brought to an enforced halt.

But the project did not stop spreading its values, offering content, suggestions and advice and continuing to be there for families. Parents were invited and encouraged to move with their children through a series of activities designed to make the long period during which they all found themselves at home more pleasant. In fact, specific content inspired by the innovative scientific Joy of moving method, which is the basis of the project, was created and made available.
The following are some of the activities undertaken by the project to show how Kinder Joy of moving was there for families during the Covid-19 emergency.
Promoting collaboration and teamwork in Argentina
Since authorities suspended in-person activities at schools and sports institutions, the Kinder Joy of moving local team in Argentina invited children and their families to experience the Joy of moving all together, but this time from their homes through a series of virtual activities. Due to social isolation and the mandatory distancing, the Kinder Joy of moving project adopted an "Individually but in teams" approach in order to comply with safety measures to prevent the spread of Covid-19, with the emphasis always on the project values of collaboration and teamwork.
The success of the project was also possible thanks to sports ambassadors who motivated children and produced and recorded the sports challenges to be recreated at home.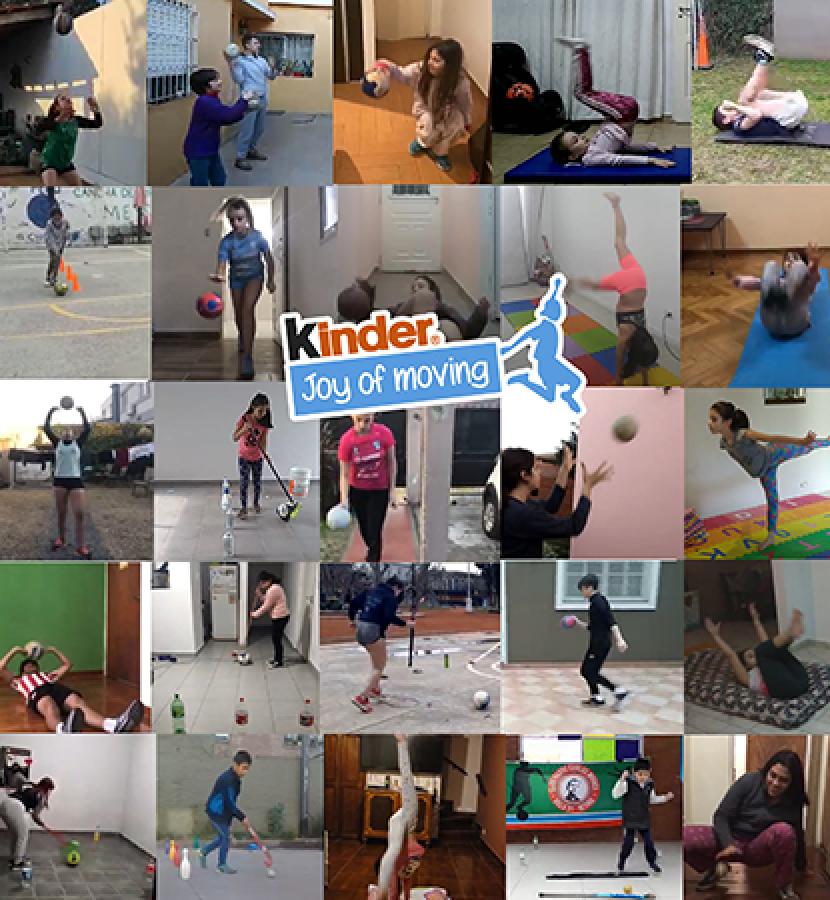 Data
150
Institutions involved
17,500
challenges accepted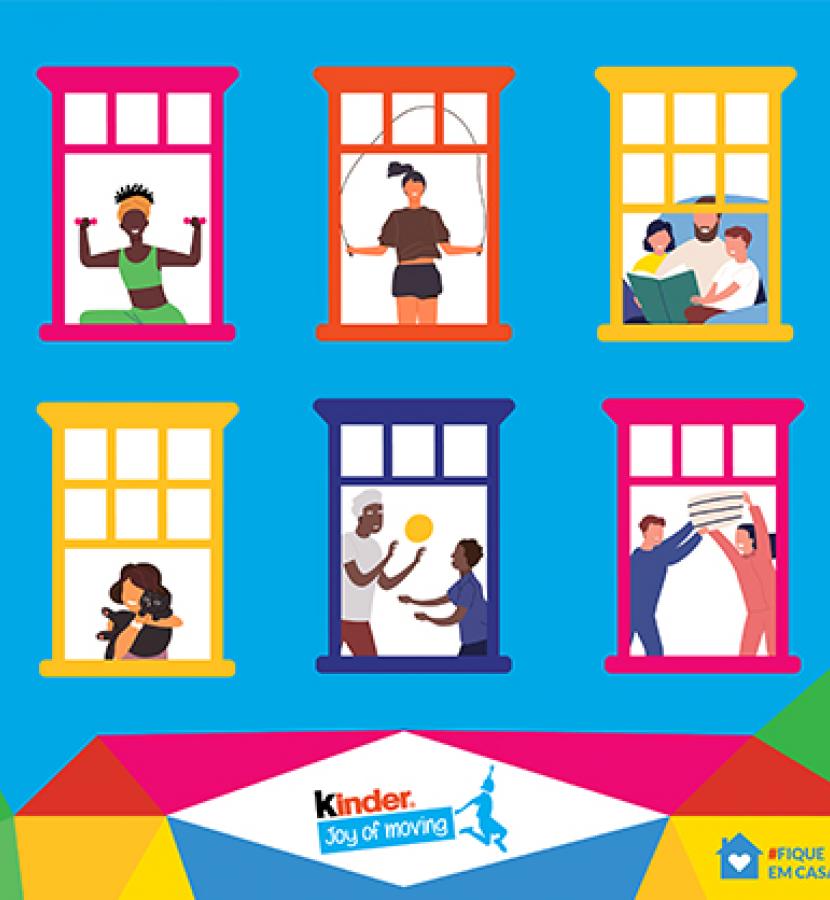 A fun and educational approach in Brazil
With the beginning of the Covid-19 pandemic, the Brazilian local team acted in order to continue spreading the Joy of moving on two main fronts, namely making content available to families who were at home with their children to help them keep moving during social isolation, and supporting trained teachers who already applied the Joy of moving method in the public schools of Poços de Caldas city to keep applying it remotely.
A series of 16 Joy of moving games were circulated across the Kinder social channels, such as YouTube and Instagram, using social media for the first time in Brazil to spread content, with posts about the programme and games, in addition to providing full activity videos.
The Kinder Joy of moving local team conducted two online training sessions to support teachers in adapting Joy of moving content for online classes, as well as creating illustrations that, in addition to serving as support materials for teachers, were available, including to families, on the city's Secretary of Education online platform. Teachers were also invited to create videos about their experiences and creativity, and those videos were shared in a chat group and used for remote training sessions.
Data
Capitalising on collaborations with partners in Spain
During the Covid-19 emergency, the Spanish team went on aligning its actions with the project's mission, creating tactical activities to help families to "experience joy and fun and get moving" during the hard lockdown period, providing games and tutorials that encouraged followers to remain connected to local platforms.
The Spanish team collaborated with its local partners to define the content plan, building a "digital ecosystem", adding to owned channels partners communication platforms to share Kinder Joy of moving content and activities and giving families the opportunity to enjoy a true "Joy of moving experience" at home.
Some of the most interesting content created and shared was the Kinder Joy of moving board game, a simple idea that came from an analysis of the most engaging content published during the first period of lockdown, such as tutorials and games, changing the way we spend time with children at home under the Joy of moving banner.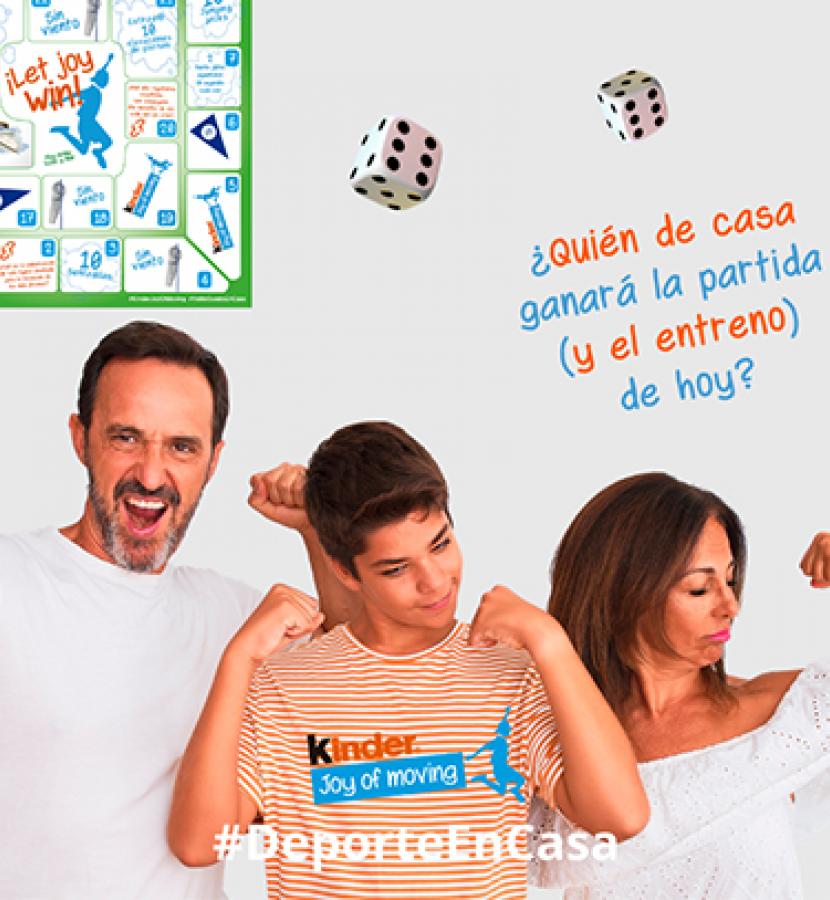 Increase
- The capacity to reach people all around the country

- engagement with people and user generated content
Alternative PE lessons platform in Poland
Since 2018, an innovative educational and sports project called Kinder Joy of moving Alternative PE lessons has been implemented in Poland as part of the Kinder Joy of moving programme. The project aims to encourage primary school pupils to actively participate in physical education lessons and their teachers to search for new solutions to make the lessons more interesting and engaging.

New times call for new solutions, and the Covid-19 pandemic has shown this to be the case, highlighting the importance of being mindful of the environment and managing change skilfully. The Kinder Joy of moving Alternative PE lessons e-platform has consequently been developed in response to those real needs of teachers and parents of early school-age children brought about by the Covid-19 pandemic. When the internet became a big training gym, an online survey among teachers was conducted and numerous consultations with experts held with a view to defining the structure of the Kinder Joy of moving Alternative PE lessons e-platform.
The e-platform is a freely accessible digital knowledge database where physical education teachers can conduct remote PE lessons in a safe, interesting and engaging way, while parents can find lots of inspiration for playing and having fun together at home. The project is implemented under the honorary patronage of the Ministry of Sport and the Polish Olympic Committee, and in cooperation with former athlete and Olympian Monika Pyrek, one of the world's best pole-vaulters and a mother of two who was able to perfectly understand the daily challenges the Covid-19 pandemic has thrown at parents, becoming the platform mentor.
Alternative PE-lessons milestones
Freely accessible;

User-friendly for people of all ages;

Relevant content developed by experts;

Engaging and diverse content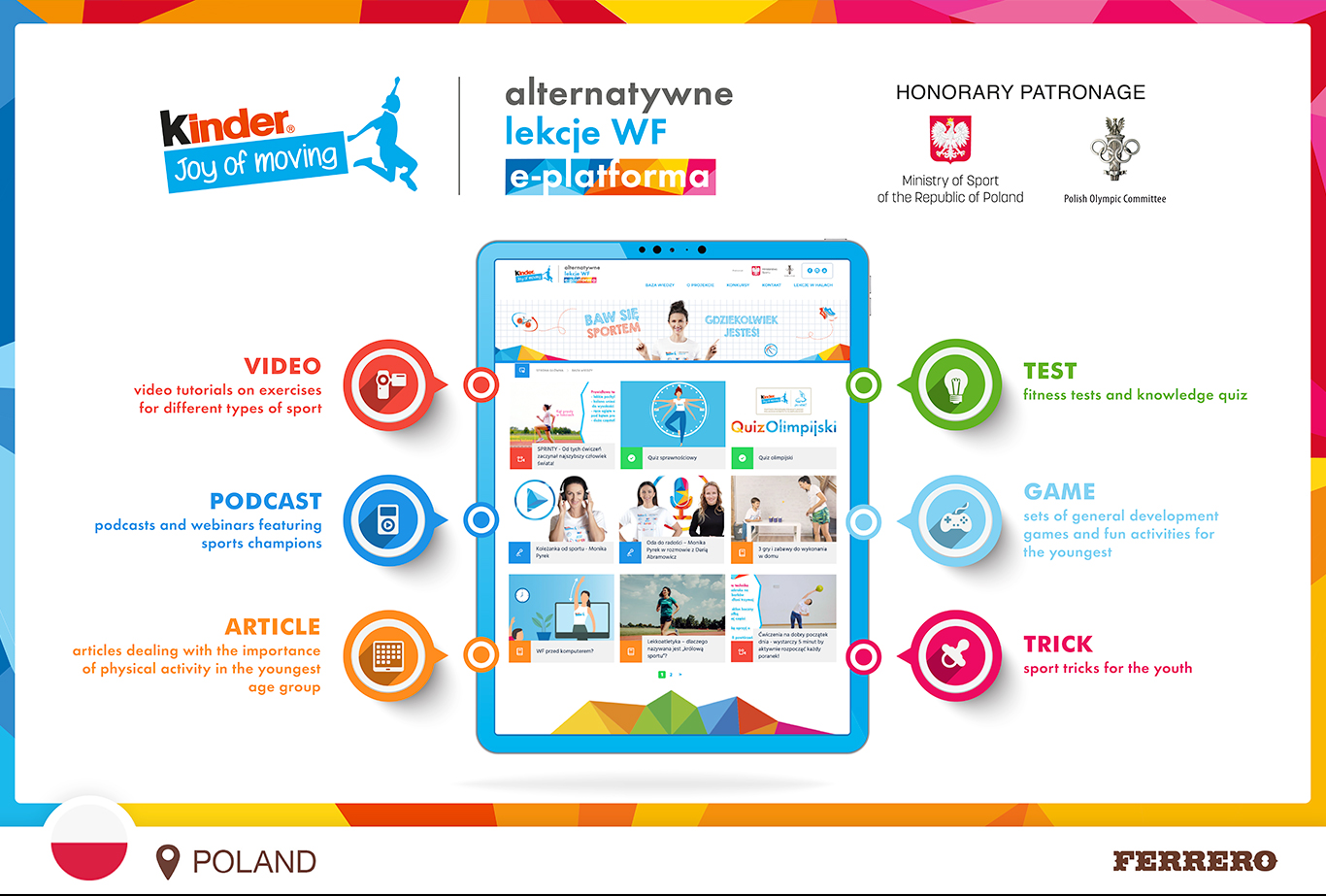 "The Covid-19 pandemic has been a challenge for the project, but our commitment to being close to children and families didn't stop. We managed to spread of the Joy of moving in different and unexplored ways, somehow even reinforcing the initiative. The digital ecosystem created will be an important asset even when we get back to organising live events, hopefully soon."